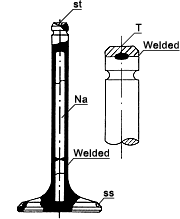 S
ss Valve seat : Stellite No.6 or No.32 (F)
st Tip : Stellite No.1
T
Wafer welded valves Small wafer ( normally in our A material ) is welded at the valve tip.
C
Chromium plated valve stems
N
Soft nitrided valves Soft nitrided finish, in other words "Tufftride" , or so called "Black Finish" in gneral. The significance of these inprovements resulting from soft nitriding is of course an extended valve life.
Na
Sodium cooled valves Demands are increasing for racing car engines, for severe operating purposes and for long run under high speeds. Sodium affects lowering temperature at valve haed.
Bi
These are required for some types of engines, to economically provide a valve with the head resistent to heat, crrosion and mechanical stresses and the stem with good wear resistance. The bi-metallic Valve has the head made from a high temparature and corrosion resistant steel, and the stem made from a steel ( usually martensitic ) with good mechaninal properties at medium temperatures. This combination is highly recommended for Exhaust Valves.